Capturing amazing food photos is more than just gear. Nice camera's, lights, and all the tech helps make the pro food photographer's life easier, but inside every mouth watering food photo they make are some tried and true basics. I've put together an entire food photography course online, which you can see here, that is filled with hours of tutorials, but first I want to share with you some great food photography tips for beginners that will get you on your way to creating deeper more exciting food stories.
Food Photography Tips For Beginners
1. Become A Master Of Light
Creating stunning food images is not just about cooking and styling beautiful food. That's definitely a big part of it, but when you're placing that food in front of the camera, GREAT light is your main concern.
SIMPLE TIPS for creating the best Lighting For Food Photography
To start off this food photography tips for beginners guide lets talk about the best lighting for food photography. What makes light "good?" A lot of people talk about "good" or "great" light, but what does that mean? All vagueness aside, in my opinion there is no such thing as "Good Light" in photography, if the light FURTHERS your Story, consider it good. Whether you're using natural, constant, or studio strobes the goal is to be able to manipulate the light to match and deepen the food stories you're tying to tell.
There is no such thing as "Good Light" in photography, if the light FURTHERS your story, consider it good.
1. Keep The Strength And Soften The Contrast
The best lighting for food photography depends on the story you are trying to tell. Every story is different.
With that being said, there are a few things to consider when lighting your food photos.
Will the shadows distract from my subject?
In the case of direct light, shadows caused by the un-obstructed light rays​ will sometimes block the viewer from seeing a large part of your story. Direct light will also cause bright reflections in areas of your image that might distract the eye from the food.
Does the light, highlight my subject?
A lot of people recommend using in-direct light for food photos because it's easy, without rays of light there are few shadows and highlights to manage. However, without any highlights or shadows you have flat shapeless light. Leaving the eye unsure where to look.
​Is my light directional?
Similar to the question above, your light should speak to the location of a source. Direct-Diffused light is a mesh of Direct and In-Direct light with soft shadows and strong highlights. This is one of the best food photography tricks as it comforts the brain that the light is coming from somewhere or that the light has a "source." The best food photographers are really good a fooling the viewer into thinking the source is something other than a studio strobe.
Light is so important for good food stories. The light's source, strength, and direction all add to the story you're trying to tell because good light really hints to a world outside of the frame.
To capture all those beautiful qualities of light and at the same time highlight all the details in your story, use a diffusor like the one covering my window in this behind the scenes image below.
P.S. You can visit here to learn some of the best food photography lighting setups for using your strobes
Large 60in. diffusor placed between my food and the direct natural light coming through my window.
You don't have to buy a professional one like the 60 inch diffusor you see here, lots of different materials work (even a bed sheet), as long as it's white and light can pass through it.
However, the thicker the material the less light will pass through illuminating your food. The upside to spending the $25 or so for the professional type, is that they come in standard thicknesses, perfect for keeping the strength of the light, while at the same time softening all those highlights and shadows.
2. Avoid Direct Light
For most of the stories I've ever made, direct light is way too powerful. Although I love the shape and texture it gives my cake, the amount of contrast I'm getting is damaging other areas of my story, such as in the details of the food and environment.
Also the strong shadows are introducing strange shapes into my composition that pull the attention away from my beautiful bunt cake. If direct light is a must to tell the story you want (like a steamy cup of coffee on the table surrounded by the first rays of sunlight), then bounce some of that beautiful sunlight back in...
3. Bouncing Light
Sometimes filling those natural shadow areas with a little bit more light is one of those simple food photography tricks you can use to make that beautiful scene come to life.
Using some cheap foam-core boards are great for this purpose, you can cut them down to any size or shape and they're perfect for bouncing in that much needed light. Place them on the shadow side of the food and adjust the distance from your scene, moving them in closer or farther away until you're satisfied with the brightness of the shadows in your food photos.
Darkening the shadows in your photos is an option as well. I've placed some matte black tape on one side of my foam-core card to suck up some of the light to give my images a bit more contrast when I need it. This is a great little trick, if your natural light is slightly in-direct and flat. You can brighten your exposure to make a stronger highlight and then use the black cards to add in some more contrast to your shadows.
When creating dynamic, interesting stories surrounding your images, food styling and composition are some of the greatest tools you'll have to get viewers to tune in to your food photos. I wrote about some great tips for this here. Not only do the props that you use in your images tell more about you as a person, but they also speak volumes about the character of the actual dish.
2. Make Delicious Compositions
The ways in which you compose those props around the frame can also have a big impact on what the viewer will look at first and how long they spend looking at your beautiful images. Here is an actual lesson from my food photography course on how to avoid beginner mistakes and perfecting those food styling and composing techniques which you can use to really make your viewers glued to your images.
Food styling and composition-best tools to get viewers to tune in to your food photography.
Buying the latest, biggest and best dSLR on the market is not at all necessary for food photography. Just look at all the smartphone food photos on Instagram and you'll see that good light, great food and beautiful styling is paramount to capturing appetizing food stories.
However, being able to control the camera will not only help erase the hundreds of little tech issues that no-doubt distract from your story, but also add that much needed constancy to your workflow, saving you time and energy in getting the images you need to really make that recipe look amazing.
Pick The Right Aperture
Controlling the aperture inside your camera's lens will really help that food pop off of the background. You can really use the aperture to separate your food from everything else in the frame. Take a look at the images below in which I photographed the same dish, each using a different aperture, until I arrived at one that helped make my food stand out from the rest.
If you choose too wide of an aperture, your food could also become out of focus. Just because your lens will shoot at an aperture of f/1.2 doesn't necessarily mean you should use that for images.
When The Camera Is Set To An Aperture Of F/16
When The Camera Is Set To An Aperture Of F/4
I like a healthy balance and keep my aperture around f/4. It provides that creamy depth of field to separate my food from the props, but also gives me enough detail in my scene to tell my stories.
Nail The White Balance In Camera
One of the big benefits of shooting RAW is that you can change a lot of things after the image has been made. However, when shooting JPG's simply choosing the correct white balance in camera will really save you a lot of painful editing.
Our eyes do an amazing job of automatically adjusting for shifts in color. Each light source puts off a different color cast and you can use the camera's white balance setting to adjust for that. When you change the white balance, the camera will try to pump in the opposite color to make the image appear to be a more neutral white.
You can see in the image above how the camera tries to compensate for various different light sources. Make sure you have the correct white balance for the situation, especially if your shooting JPG's as it's a little tricky to fix this in the computer.
Food blogging is tough. It's competitive, in the recipes you cook up and the photos you create.
The Best Cameras And Lenses For Food Photography
Having a good camera and some lenses to play around with sure makes life easier, however you still want some money left over to buy some food to eat and food to shoot! Here are a few selections of cameras and lenses I personally use everyday and feel comfortable recommending.
The Canon 5Ds is a little bit on the pricy side, but if detail, sharpness and ultimate resolution is what you want than this 50.6MP beast has to be in the running as the best camera for food photography.
It's hard to go wrong with the Canon 7DMKII, not only does it have some great image quality, but if your interested in doing video this camera has some great features for that as well.
The 100mm hands down has to be the best lens for food photography. Not only is this lens razor sharp but it's great either backed off or super close up.
Sorry if you don't see your favorite camera brand on the list, like I said, this is the gear I've been using for years and I can speak to its quality. All of these cameras and lenses are quite standard and their equivalents can be found in most any brand.
Learn My Entire Workflow To Make Stunning Food Photography
Food blogging is tough. It's competitive, both in the recipes you cook up and the photos you create. Working as a professional food photographer is even more demanding of beautiful imagery.
So as a food blogger and a working food photographer, I saw that real good information was rare, which is why I decided to create this food photography course online.
I'm really proud of this course. I created it with the sole intention of inspiring other photographers and foodies to start cooking up great food images!
This is not just a lighting course, although you'll learn how to create the best light for food photography.
It's not a course in silly styling or camera tricks, you'll learn how to style with purpose and make that camera work for you. This is a course where storytelling is at the core of everything I show you.
Make huge leaps right now in your food photos and jump on over to the store to find out what each lesson serves up!
Watch the Food Photography Masterclass Trailer!
Check Out Some Of Our Latest Articles, Guides, Tips & Tutorials On We Eat Together!
This is not a sponsored post, however this post does contain affiliate links to some great photography gear, products or services I currently use or have used in the past. If you plan on shopping for some new great stuff, please click through the link and I'll receive a small commission. Every purchase helps me continue on my never ending quest to provide amazing content.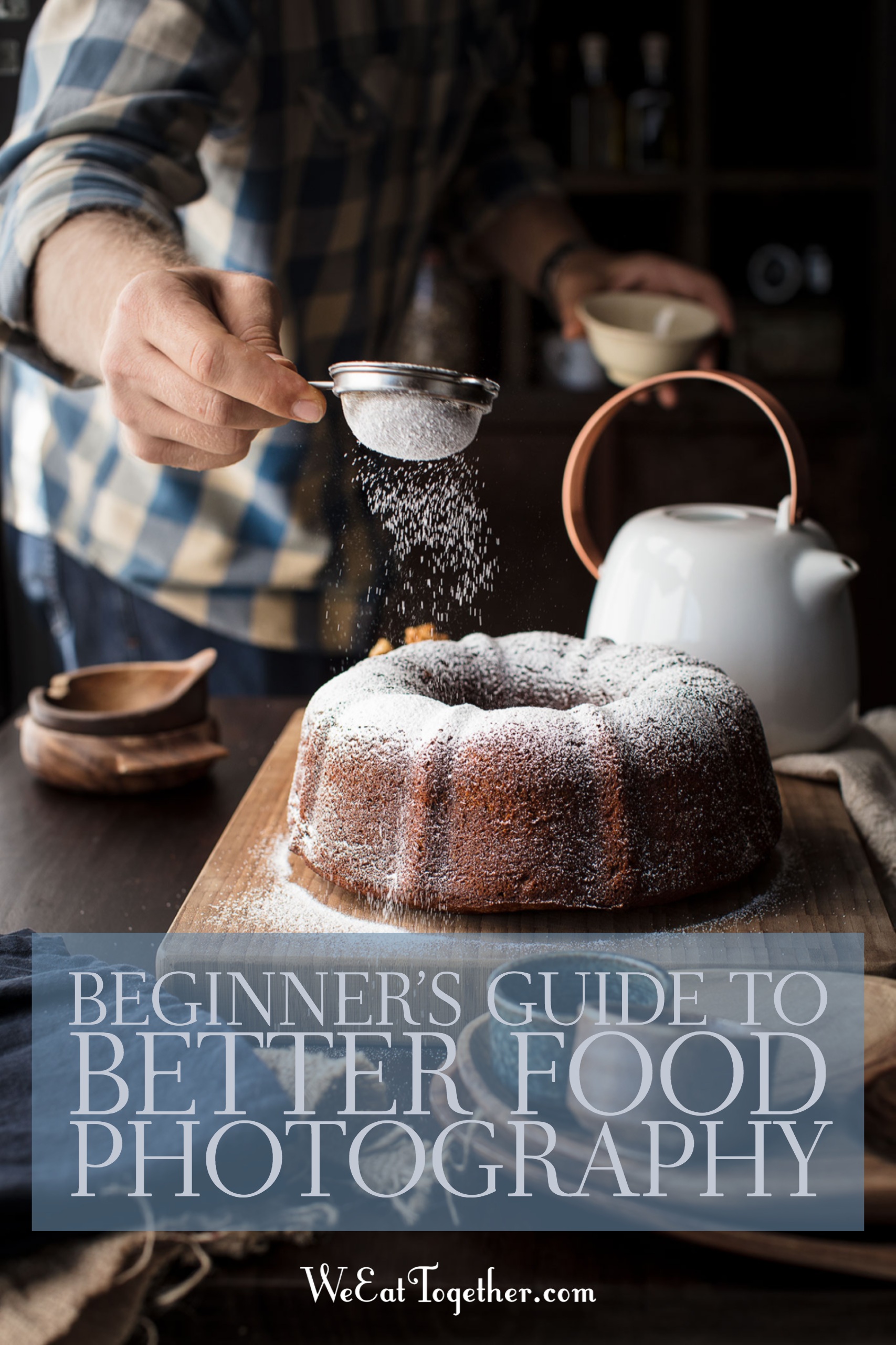 Google+ Comments