Choosing the best camera for food photography or any type of photography for that matter is sort of equated to those choose your own adventure books from back in the day. You walk up to the counter faced with so many choices, which all seem very similar, coupled with the fear that any decision you make might ultimately decide the fate of your art and future creative outlets.
It's easy to pick up the camera that has everything and let the pieces fall as they may in the future. In reality, does the way you shoot right now require all those bits and bobs? If not, then maybe a toned down budget camera will get you where you want to be.
Each camera comes with specs, which are so similar and so unique to one another, the whole thought of it can make anyone's head spin. However, it's a good idea to sit down, take a breath and answer a few key questions about what makes the best camera for food photography...for you.
When I'm looking at the next best camera for food photography, I always ask the 3 questions below. I'll follow that up with a list of the best cameras for food photographers that you can buy right now.
I've listed out a bunch of cameras in no particular order, that for the most part, answer those questions for me and make them fall into the category of best camera for food photography. No single camera will have it all at that perfect low price. However, depending on you're budget, I think you'll find a camera that you will love.
The entry level food photography cameras are all about the most bang for your buck. If you're looking for a great camera to capture your own recipes and delicious creations for Instagram and your blog then this is where you need to be. Hey maybe even dive into vlogging on Youtube as well!
The Canon EOS T7I seen here is arguably the most popular food photography camera for those just starting out. I'm not saying it's the best camera for food photography, but if you're on a budget a 24.2mp camera with flip out LCD touchscreen, wifi and lens for under a $1,000 should get your attention. The Canon EOS T7I comes with a lot of the features, pro camera owners like me would love, but can't find inside more expensive cameras on this list. However, with only 6 frames per second and lack of 4K or even serious FHD video capabilities, if you're serious about video or shooting action this might not be the camera for you.
Another popular entry level food photography camera for those on a budget is the Nikon D5600 DX. Again if price was no option, then I wouldn't put this camera at the top of the "best camera for food photography" list, but it's another feature packed camera with an attractive price here. Lauded for it's impressive dynamic range, nice rotating touchscreen and mobile app Snapbridge it's a great offering for beginners. However, it's not so impressive on the video side, released with no 4k and no aperture control in video mode. Like the Canon T7I if video is not important to you then the Nikon D5600 would be a great food photography camera.
For the price the Canon EOS 80D that you see here is probably the best camera for food photography in the entry level range for those looking to dive into their craft a little more seriously. It's a little more costly, but as a food photography camera it has all of the great features of the T7I and more. If you're a video shooter, you may not like that it's not 4k or only has FHD in 60fps, but at least it has a headphone port! The 80D also has 7 frames per second shooting, mirror vibration controls and a weather sealed body for all those random coffee accidents.
One important aspect to note when investing in a camera for food photography is the sensor size. Most budget to mid-range cameras have a crop sensor of about 1.5x smaller than the normal size of a full frame camera. This means that the lenses you buy will look a little zoomed-in when compare to the same lens on their full frame brothers and sisters. Have a look at the image above to see what I mean. If you're looking at buying a crop sensor camera, then consider buying some wider lenses.
If I had to choose the best camera for food photography, one that would capture amazing stills as well as delicious recipe videos, there would be a clear winner in this category. However, food photographers and food photography cameras are never the same. If you're looking to step up into full frame cameras or want to dive into 4k and slow-motion video then you'll love these cameras.
Although, a few years old now the Nikon D7500 is still a great food photography camera. Nikon really stepped up their game in their midrange offerings with this 24mp full frame beast. With 51 autofocus points, wifi and tilt screen (features still not found on a lot of full frame cameras) the Nikon D7500 found here would be a fantastic food photography camera. Also if you plan on creating some beautiful recipe videos or vlogs you can, but don't be expecting 4k or slow motion at 120fps, but as a stills camera it has it all.
For Canon's entry level full frame dSLR the Canon 6DMKII is a top contender for the best camera for food photography title. With 26mp, duel pixel autofocus and fully articulating touchscreen, the 6DMKII is a tasty full frame food photography camera on the cheap. Lacking 4k or even a high bitrate FHD it does have amazing autofocus to capture all those yummy recipes.
If you haven't gone mirrorless yet, the Fujifilm XH1 will make you want to. Not only can the XH1 easily hold the top spot for best food photography camera, it has still and video specs that at this price, blow pretty much every other camera out of the water. Which is why I put it in the top spot as the best camera for food photography in the mid-range level. Shooting 24mp stills at 14fps with delicious color profiles and 4k video at 200mb/s and FHD slow motion 120fps capabilities. Check out all the yummy specs here!
If you're looking for the highest resolution possible out of your food photography camera, then take a look at these sweet pieces of tech. If you're a food photographers wanting to dive into advertisement, product or just always wondered what the hairs on a micro-green look like, you won't be sorry with the images here. Easily comparable to medium format and in the case of my pick, have specs that suit those photographers who want it all.
The Canon 5Ds was made in large part as a dedicated studio camera. For all those food photographers who need extremely high resolution, but can't afford medium format, the 5Ds is for you. It sports a reinforced chassis and a mirror control break to ensure everyone of those beautiful 50mp is crisp. It also rocks the Intelligent Viewfinder 2, and embedded overlay that displays grids, levels and multiple crops when you look through the viewfinder. When it comes time to crop you can feel safe that the final image will still have more megapixels than most cameras out there.
The mirrorless full frame megapixel monster title definitely goes to the Sony a7RIII here. With extreme resolution images, lightweight body and 4k video as a food photography camera the a7RIII should get your attention. If you decide to record some tasty recipe videos you'll love this camera too, with headphone port, slow-motion 120fps FHD video and of course 4k at 100mb/s. This camera has it all.
If you're a Nikon shooter and you need a food photography camera that has it all the don't pass up the Nikon D850 here. Like the Sony, the D850 sports extremely high resolution images plus 4k and slow-motion 120fps FHD video. With an amazing 151 autofocus point (99 cross-type) and tilting touchscreen you'll be sure to not only capture delicious stills, but tasty video as well. With all these features and Nikon's huge line of beautiful lenses, if I had a choice between these megapixel monsters, the D850 would grab the title of best camera for food photography!
In my opinion the top 3 "best camera for food photography" picks are the Canon 80D, Fujifilm XH1 and the Nikon D850. Why did I pick these cameras? Simple. They answer all the questions for me that I outlined above.
I'm a food photographer first, but throughout the years video has become increasingly important in my business. I need a camera that can do both, preferably one that is lightweight, sturdy (weather sealed for all those coffee spills) and has great video autofocus.
In the end anyone of these cameras would be an amazing tool for any food photographer and each year I will put out an update to this list so if you don't see something you like right now be sure to check back.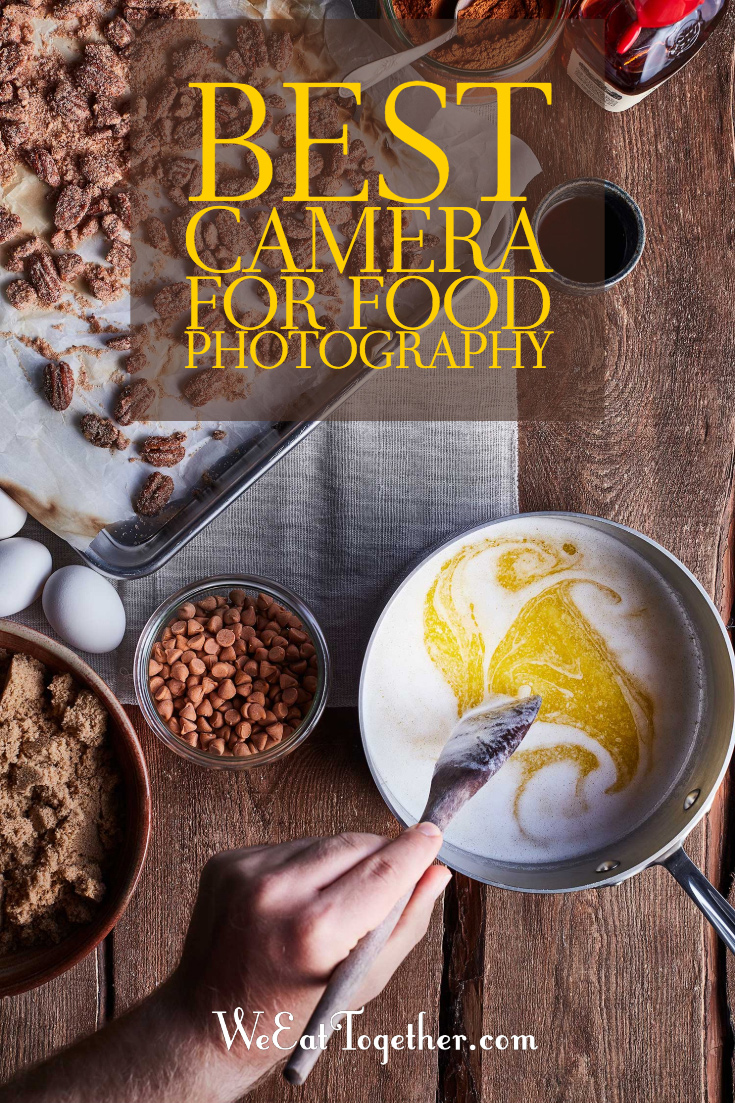 Google+ Comments