Printing a portfolio is one step every photographer will do at some point in their career no matter what genre they shoot in. So with that being said, I want to share with you a deeper dive into the process behind printing a portfolio. Tough topics like layout, choosing good portfolio printers (not just the one in the video), preparing images for print and what to do with that beautiful printed portfolio when you're done!
Building that perfect printed portfolio can seem like a fight!
It can be daunting to say the least. Selecting the right photos, to image order, to culling some of your favorite shots is scary for most photographers.
In the video above, you can see how I tackle these portfolio printing struggles. Plus, my personal thoughts on how to build an epic print portfolio that will get you work.
Should I print my Portfolio?
First off, why print anything these days. We have beautiful tech we carry around with us everywhere we go. Tablets and smartphones that can display beautifully designed PDFs and websites portfolios, ready to be whipped out on demand.
This over abundance of stunning backlight images on our screens everyday is kind of the point. In this hi-fi tech filled world, beautiful low-fi photo books are now a welcomed novelty.
So should you print your portfolio? The answer is a resounding YES!
There is something magical about thumbing through stunningly printed images vs viewing them on a cold screen. There is warmth to a print. We can feel them, we can talk about them, and bounce ideas from them.
When I see a print portfolio, I don't just see the images. I see the paper choice, the thickness, the layout, the care and attention you took in creating each page. And I think your clients will too.
Making a Portfolio That Is Different
My website portfolio is great for sending out emails to prospective clients. However, a printed portfolio is for when I actually get a meeting with an ad agency or a client. Now they have most likely already looked at my website, so I prefer my printed portfolio to be a little different.
Must Have Images For Your Print Portfolio:
Your strongest images (of course)
Images that are relevant to the types of clients you want
Transitional images that help move from one niche to another
A personal project or something not on your website
The top three in that list you most likely already have on your website. However, add a little extra to your print portfolio, something that's not available on the web.
My personal fav is to add a personal project. I try to keep it relevant, but also include images that don't fit within my traditional portfolio.
With that I can discuss my goals. The intent I have for the project. What images are to come and why I wanted to create the project in the first place.
The goal here is to have a conversation starter.
Ultimately, it provides your clients with a deeper understanding of who you are as an artist. It could be a project you shot just for them. Either way, you're sharing with them something special and it could be the one thing that makes you memorable.
The 4 Big portfolio questions you should ask yourself
Who are the top 5 clients you would love to have?
What kind of images do these clients use regularly?
Are your images competitive with other work in your genre?
Do you have gaps in your portfolio that need to be filled?

A lot of photographers will shoot for years and years without ever asking themselves one of these 4 questions. Why? Most likely because these questions are seriously scary. Let's say your in that camp, you want to put together a printed portfolio, but you're unsure WHO this book is for.
Start with the first question. Who are your dream clients? Taco Bell? Pizza Hut? Bon Appetite Magazine? Bacardi? Tasty?
If you answered yes to all 5 of those companies and moved on to question 2, you would quickly find out that all of those brands have wildly different photo styles.
Should you try to make a print portfolio that would attract all of those companies above? Probably not.
However, maybe some of the images you already have are similar to work that one or two of those companies use. Start there. Then move back to question one and find other companies that fall within that scope of work and rebuild your list of dream clients.
Competitiveness And Gaps:
The answers to questions 3 and 4 might be a hard pill to swallow. It may lead you to shooting more in order to fill that competitive gap. Or it may lead you to reevaluating your dream client list for the time being. Although, I personally find the process of constantly asking myself these 4 big questions motivating. It gives me focus as an artist when my direction as a photographer is murky.
Is this permanent? Not at all. That's what personal projects are for.
Also keep in mind that this printed portfolio may be your first, but most likely will not be your last.
pro tips for making a epic photography print portfolio
Alright, so now comes the hard part and that's actually putting your printed portfolio together. Starting with the images you choose. What order they go in. And turning that jumbled collection of images, into a book that flows from page to page.
Carefully Select Your Featured Images
Remember who your dream clients are and the work they use. Assemble a collection of images for your printed portfolio that shows variety and consistency within a genre or sub-genre. I personally have a few sub-genres in my portfolio and I try to keep photos that are alike in subject matter near each other and move from one genre to the next via transitional images.
Find Transitonal images
You may have images in your collection that are not the cream of the crop, but can serve as transitional images. These images help the flow from one sub-genre to the next. For example moving from savory images to sweets. It can pull the viewer out of the portfolio if there are hard stops. An image that bridges that gap will help smooth the transition. If you find yourself lacking one of these transitional images, this is a good opportunity to fill that gap.
Order images like a pro
Putting images in the right order for your print portfolio will take up the most time. Focus on grouping images with similar colors, compositions, moods or even subjects together. They don't always have to follow the same pattern, however it helps the flow of a book when there is something tying shots together. Try finding diptychs or even triptychs within your collection of images, and use these to build out the flow of your book.
Cut, Cut, Cut! Be Ruthless in your edit
It might be the best image you ever made, but if it doesn't fit in your portfolio you need to cut it. Go back to your dream list of clients, make sure every image in your printed portfolio speaks to that list. Hunt for the images that don't belong and get rid of them. You can always put them aside as a personal project or make an entirely different portfolio around them.
Seek A second Opinion
Before you pull the trigger on printing a portfolio, seek out the opinion of your fellow photographers. If you find yourself stuck, make a few versions of your portfolio edit and see what they have to say. Also, try and get opinions from non-photographers. Sometimes the outsider advise can be the most valuable as they see differently than what we envision as image makers.
Where Do I print my portfolio?
Choosing the right printer is tough, there are a lot of companies out there to choose from. Even scarier, their quality is only revealed after you paid and the printed portfolio is in your hands.
When sourcing portfolio printers, there are a few things I look out for as a photographer:
Layflat Books: I want to be able to open the book and show clients my portfolio without having to hold one side of the book down to keep it from folding back up.
Page Thickness: Having the page be thick isn't essential, but it sure feels good when the page has some weight to it. As a little reference, paper with 90-140gsm is similar to normal printer paper or posters. 210-300gsm is similar to high end magazine covers. 350-450gsm is similar to business cards. For my portfolios I prefer 350gsm and up.
Paper / Print Quality: Companies will either expose the image on real photo paper or use digital printers. Real photo paper is amazing, but tends to be on the high end. However, some digital printers can be pretty mind blowing as well. The results vary depending on the type of paper and type of printer used. Try to find out as much info as you can about the paper and printers the company uses when creating your printed portfolio.
Cover: When printing a portfolio, get a cover you're happy with because let's face it EVERYONE judges a book by it's cover.
HERE ARE THREE PORTFOLIO PRINTERS I'VE TESTED OUT:
Definitely the most popular portfolio printers and the most budget friendly. Blurb offers 10x8 hardcover layflat books starting at $59.99 for a base 20 pages. For the price, you really can't beat them. They've been around forever, and they are continuously updating their offerings.
You have options for a full dust jacket or an image wrap cover. Premium Lustre Ultra-Thick Paper (432 gsm) and only $1.10 per additional page. I would recommend around 40 pages for your printed portfolio, which would be 80 images or 80 layouts.
With more choices on cover and sizes, Saal Digital is at the top for me (and not because they're a sponsor, but if you watch the video you'll see why). For $134.49 you'll get a 20 page 11x8.5 Professional XT Line Photo Book with an Acrylic + Leather Cover.
$3 per additional page of Glossy Paper, the paper is spectacular. Although, I'm unsure from their website what kind of paper the books are actually made from. However, if it's the same as their fine art print paper then it's either exposed on real Fujifilm Photo Paper the Fuji Crystal DP II Professional Paper or on Hahnemühle FineArt Baryta via digital printing. My guess would be the latter.
You can also choose either an acrylic + leather cover or a linen + leather cover for your print portfolio. Choosing what color leather they use is an option too. Plus if you have some cash to burn, you can add a nice leather display box for an extra $60.
At $299 Artifact Uprising offers a 20 page 14x11 layflat portfolio book. They use Mohawk Lustre paper (no details on website for thickness) with a hardcover and some options include an image wrap cover design.
However, I find the $6.00 per additional page a bit expensive. I haven't ordered their layflat book, personally. However, I did get their 8.5x11 hardcover photo book and sadly, I wasn't too impressed. Although more expensive, the prints were not anywhere near the quality of Saal Digital. The paper was similar to the standard type I've ordered before from Blurb at more than 3x the price for their layflat books.
Also weird size options for photographers, which is funny because it was started by a photographer.
Although, not a layflat book, have a look at the Travel Photo Book option for your printed portfolio. This book comes with a linen hardcover, image wrap or full dust jackets, more book sizes and 50-150 pages starting from $89 although no choice on paper type.
I found this really cool wooden print portfolio cover over on Etsy for $215, which includes an engraved logo of your choice (just upload your logo and text) and 30 adhesive inserts for attaching your prints to.
I know a lot of photographers choose this option for their printed portfolio, simply because it's the most customizable. You have the ability to update your book when you create new work or when you simply want to reorganize your layout.
If you go this route, you can also pick your own paper to print on. Either buying and printing on your own ink-jet printer or using a professional printing service.
Do You Have Gaps In Your Portfolio? Here Are Some More Tips: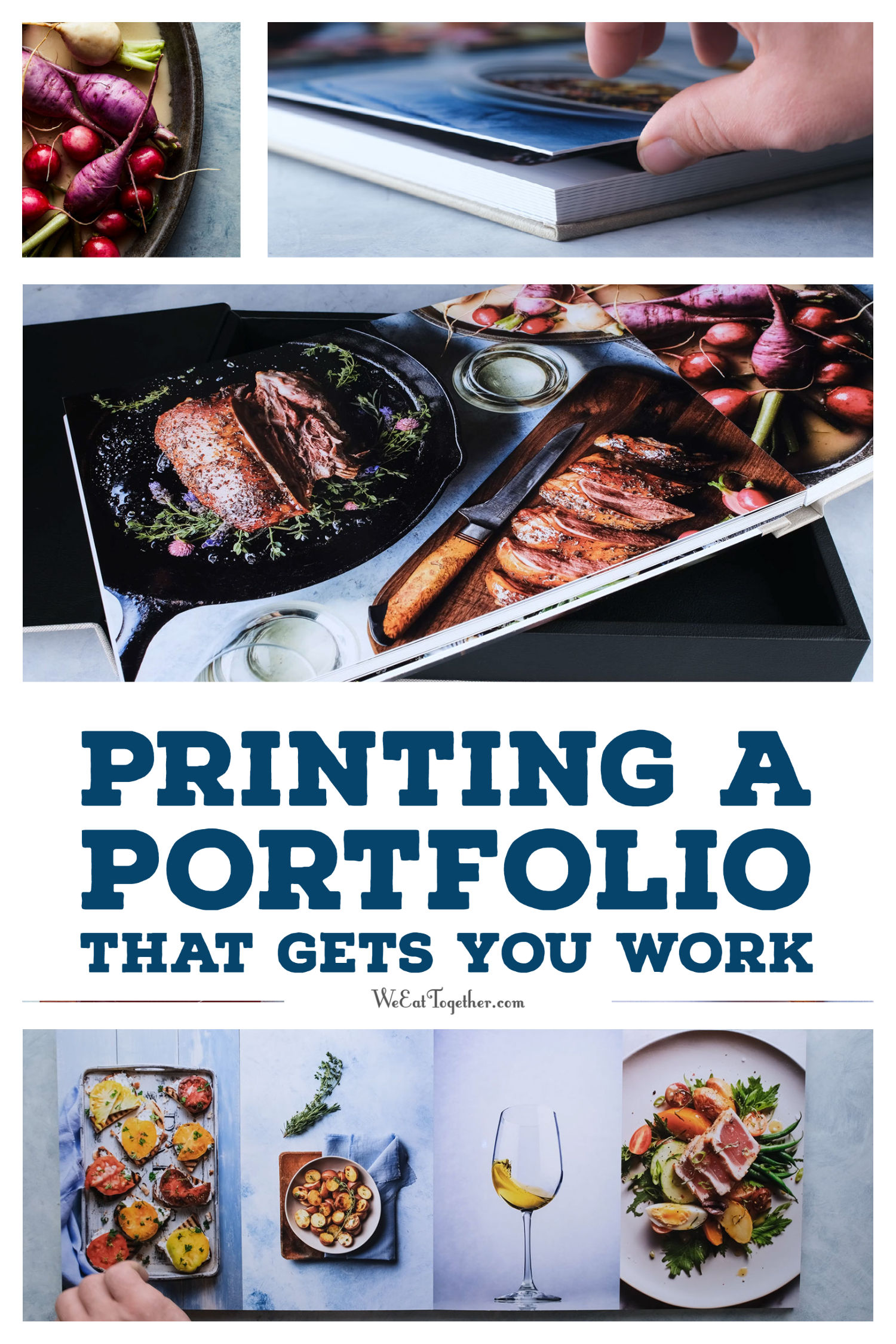 Google+ Comments