YOU CAN FIND A FEW GREAT PHOTOSHOP TUTORIALS
The Birth of Skyler's Sausage, Mushroom and Quail Egg Bake Recipe
Ever tried quail eggs? They are small and slightly unusual looking, but oh so delicious. I usually make this egg bake with regular chicken eggs, but I had just haggled my way through Mutrah, Souk here in Muscat for an unbelievably gorgeous antique copper pan that I thought would make a great prop.  The only problem is that this pan is strangely small, so on the day of the shoot I had to quickly rush to the local store and pick up some quail eggs before the light was gone. And the Sausage, Mushroom and Quail Egg Bake Recipe was born!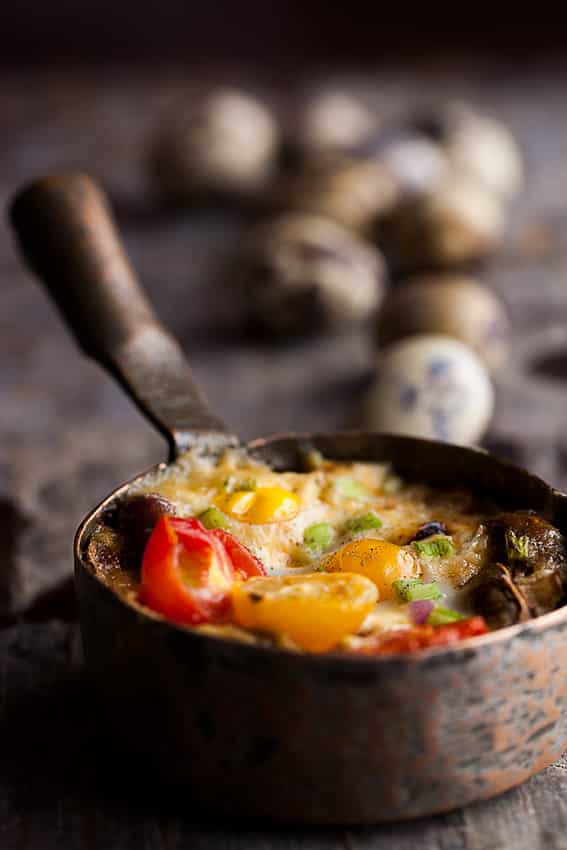 INTERESTED IN FOOD PHOTOGRAPHY? CHECK OUT SOME OF THE ESSENTIAL PHOTOGRAPHY GEAR WE USE TO CREATE OUR PHOTOS! THIS RUSTIC QUAIL EGG BAKE WAS SHOT USING CANON'S EF 100mm f/2.8L USM Macro Lens, SEE WHAT WE HAVE TO SAY ABOUT IT. READ OUR REVIEWS
Sausage, Mushroom and Quail Egg Bake Recipe
Skyler's Sausage, Mushroom and Quail Egg Bake Recipe
Author:
Ingredients
1 Large potato
1 Large Red onion
1 Bunch of Chives or Green Onions (garnish)
600ml Crème Fraîche (or sour cream)
1 small flat of spicy sausage (the small kind)
3-4 Mushrooms
8 – 12 Quail Eggs
Instructions
Pre heat the oven to about 200˚C. Greece up 4 small oven proof pans like the one in the picture or small baking dishes. Chop up the potatoes and onions and fry with your favorite spices and a little butter or olive oil to soften then spread evenly for the base of the bake. At the same time fry up the sausage and mushrooms for the second layer of the bake.
Mix up the Crème Fraîche with a bit of grated cheddar until smooth then pour into the dishes evenly. Carefully crack open the quail eggs two or three per dish, making sure not to brake the yokes. Top each with some of the chives or green onions along with a dash of salt and pepper. Then place in the oven until the eggs are cooked.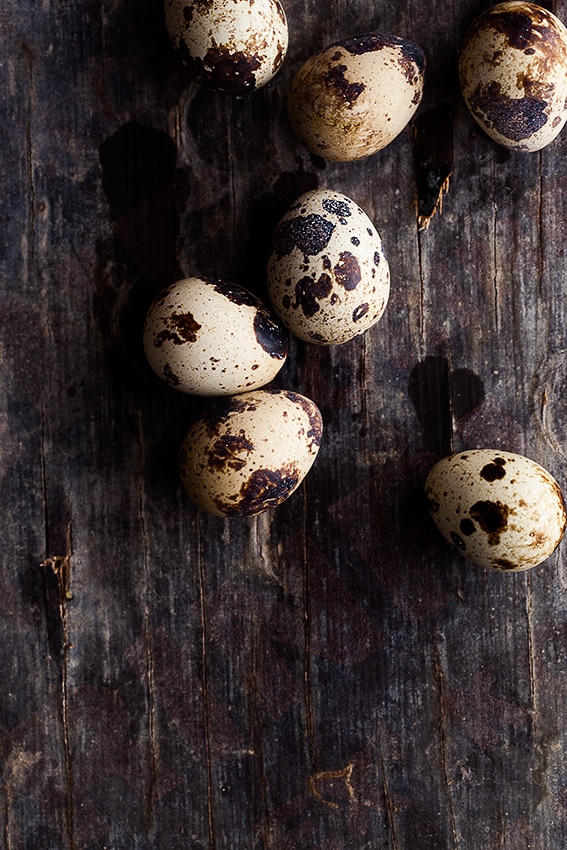 PHOTOSHOP ALERT!
Some of these pictures required a bit of photoshop, i.e. taking multiple photos then making them together. Actually only one image needed the big Masking guns, I only could find one pan in the whole souk that look like this, so what to do other than employ some camera magic by taking one photo then moving the pan and taking another.  The key to this is that the camera must be locked down on a tripod and neither the exposure or focal length can change.
I have already created a tutorial on this and if you haven't checked it out, see it here! 
Google+ Comments