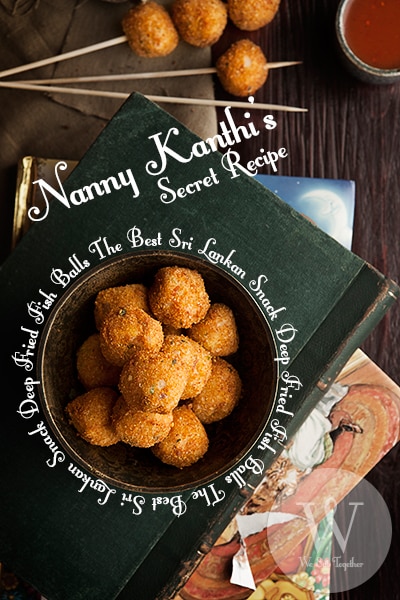 So where does Nanny Kanthi's Sri Lankan Fish Ball Recipe come from you may ask.
Well, our daughter's first stamp in her passport came when she was four months old. She was born two month pre-mature and after a stint in the incubator we spent the first two months shielding her from the outdoors, feeding her through a syringe and spoon.
Well, two months after that, she was gulping down the bottles and ready to go.  We passed through the Sri Lankan immigration and our whimsical traveling duo morphed into a precisely organized traveling trio.
Thats how it has to be as parents, something our childless friend never understand, timing is imperative and scheduling is a must.  So our willie-nilly attitude towards photographing the sights turned to taking snaps in between feeds and preferably during naps.
You may think I'm complaining about traveling as a parent, but I'm not, as it actually made us better.  We used our time more wisely and because we had to plan everything during that stage, we actually planed to shoot.
Being that regimented improved our photography. Sometimes we can get quite lazy when photography is on our time,  but as a parent, especially now that she is two, its all about showing our daughter new stuff and keeping her from being bored.
In Sri Lanka our daughter was a trooper, she slept through everything.  She slept through the loud and bumpy tuk-tuk drives. She slept through the hundreds of people shouting, laughing and bargaining in the markets. She slept as candles and incense were being lit at the temples filled with crowds of tourists.
When she was awake we carefully showed her the monkeys outside our rooms windows, but for the most part she slept.  She even slept on the train ride to Kandy.
I know your thinking no big deal with visions of one of those smooth Japanese train. No, no. This is a windows open, smoke billowing, sellers of fruits and chickens in the isles, with people hanging off the cars, train.
Not even a blink from our daughter, I was in shock and kept checking her pulse.
In all, it was a great trip to a magical island, inspired by our daughter's wonderful nanny, who is also Sri Lankan.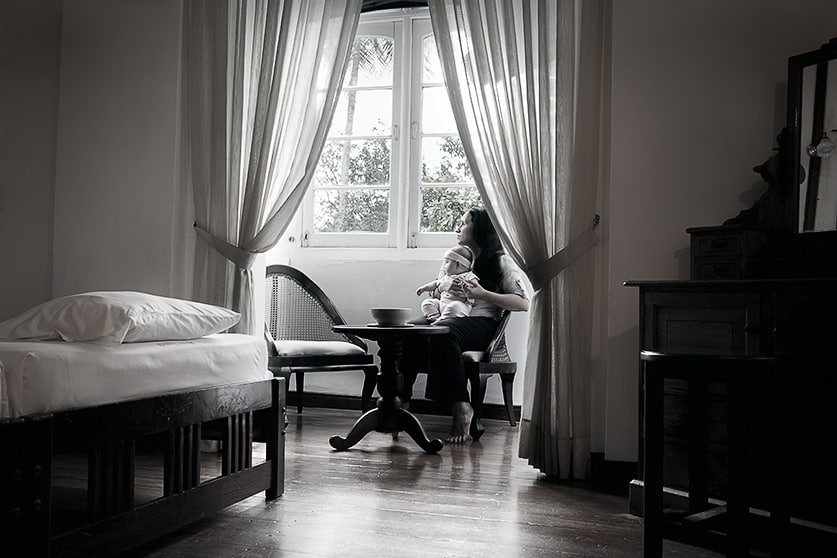 Nanny Kanthi is also a wonderful cook as well and this Sri Lankan Fish Ball Recipe is her pride and joy. I've been begging her to teach me how to cook some Sri Lankan food and finally she came by with her famous Sri Lankan Fish Ball Recipe.
Everything was pre chopped in small containers that she set down near our stovetop and I watched attentively as she mixed it all together in a great, 1-on-1, demonstration.
It's super simple so give it a go.
Nanny Kanthi's Sri Lankan Fish Ball Recipe
Nanny Kanthi's Sri Lankan Fish Ball Recipe
Author:
Prep time:
Cook time:
Total time:
Makes around 20 Balls
Ingredients
2 small potatoes mashed
1/2 red onion finely chopped
2-3 green chilies finely chopped (could use fresh jalapeños, if you can't find green chilies)
1 can of tuna with water drained
1 egg
breadcrumbs
spices and salt and pepper to taste
Instructions
With a little oil fry up the mashed potatoes, onions, tuna, chillies, and spices mixing all the ingredients well. Once everything is mixed, let it all cool on a plate. After the mix is cool enough to touch, make up as many ping-pong shaped cakes you can. Dip each cake in egg than roll around in breadcrumbs until each cake is lightly covered. Heat up clear oil in a deep pan, making sure to have enough oil to cover the fish balls. Place the cakes in a few at a time and fry until golden brown. Let cool on a paper towel to soak up any oil and enjoy.
Kanthi says no formalities are needed and they eat these for breakfast, lunch and dinner. She also told me they are a staple at Sri Lankan weddings where thousands are prepared at once.
Our daughter loves this Sri Lankan Fish Ball Recipe so we're putting it in our new promotional going out to clients, which is a book highlighting some of our daughter's favorite recipes.  Kids love them as they are perfect kiddie-hand size and not too spicy.
Google+ Comments