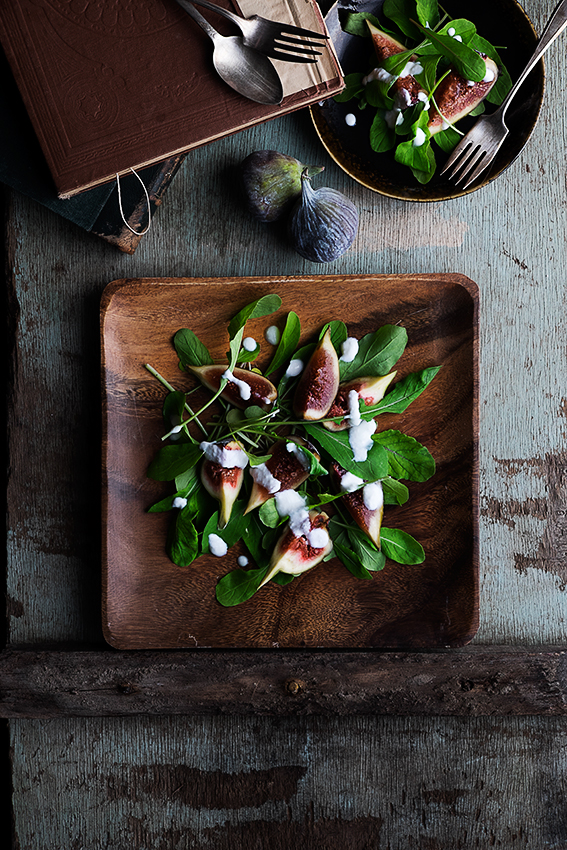 Figs are coming into season here in the Middle East, popping up on the shelves in Oman and are sure popular with the locals. Every time I go to the local market I can barely get my hands on some. These little beauties sure are nature's candy. As strange as they might look to some, figs really are sweet with a delightful consistency that make them the perfect match for a lot of recipes.
FRESH FIG SALAD RECIPE (take two)
One of my first food photographs was a fresh fig salad recipe. It didn't hit me that I had photographed this before until my wife mentioned I should put both side by side together in one post. So much has change since I took that photograph as far as style and technique, I can hardly believe it was me who took the picture.
THEN                                                                     NOW
It's hard to believe what a little natural light and food styling can do to make such an impact on your photography. I wish I could go back in time and smack myself square in the face, but it has been a wonderful learning process.  No matter what kind of photography you do, its a long road until you reach satisfaction with your art. For me I'm always happy with the work I've done until I take the next photo. I really love my new fresh fig salad recipe photos, but in a few years,or months I'm sure I'll think that they are really not so good.  I suppose that is the photographer's struggle.
The fresh fig salad recipe has gotten much better since my first attempt. Inspired by a recipe I found in Bon Appétit, it now has a great honey yogurt dressing, for starters. I hope to get a few more fig recipes up before they go out of season for the year, it's such a versatile fruit and definitely a Middle Eastern favorite. Let us know what your favorite fig recipe is, we'd love to give it a go.
FRESH FIG SALAD RECIPE
Fresh Fig Salad Recipe
Prep time:
Total time:
This fresh fig salad recipe is great for a side or a starter, with it's sweet and tangy natural flavors of figs and goat cheese.
Ingredients
1 bunch of fresh rocket
handful of chopped fresh mint
chopped walnuts (optional)
6 figs
dressing:
crumbled feta goat cheese
2 tbsp honey
170g natural plain yogurt
Instructions
Cut base of stems and rinse the fresh rocket. Place in a salad bowl and mix in the rest of the ingredients. Mix the honey, yogurt and feta together, whipping until it is smooth.
Plate the salad and place quarter cut figs then drizzle the honey yogurt dressing. Sprinkle with salt and pepper.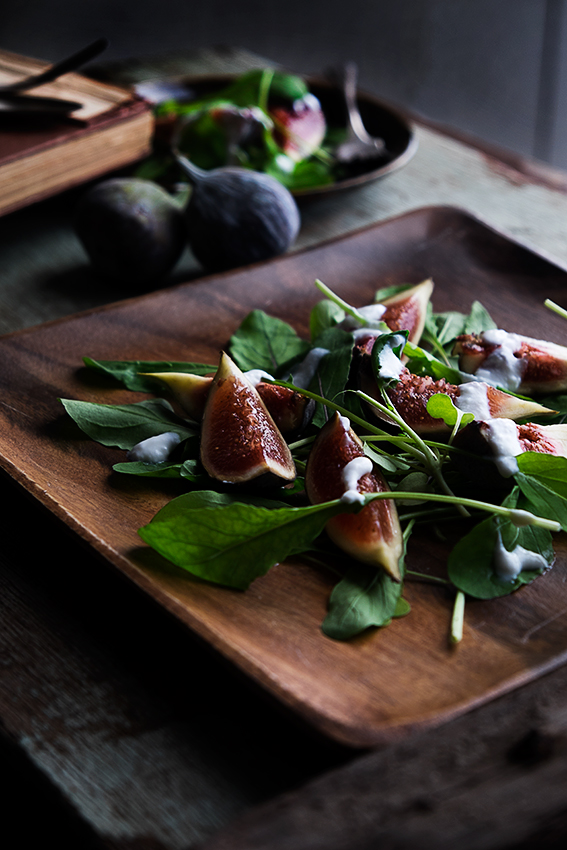 Google+ Comments