This focaccia recipe with caramelized onions, tomatoes and fresh rosemary will blow your mind with how easy it is to make. I know this site is mostly about how to become a better food photographer, but I do occasionally like to post about some of my favorite foods, like this focaccia recipe. Since I usually make food photography videos that include, if only just a little, myself cooking, I figured since I'm making recipe videos like the one above for my tutorials why not share the entire recipe with you all as well.
I'm passionate about cooking, although I'm no pro, but I love food and the culture surrounding it. I love entertaining, having guests over and showing off my latest concoction, whether it's a new spicy drink or a great appetizer like this caramelized onion, tomatoes and rosemary focaccia recipe.
The focaccia dough starts off pretty similar to every bread recipe, but takes a turn with the copious amounts of delicious olive oil you pour in, on top off and all around. You let 8g of those yeasty creatures grow in the 1/2 cup of warm water (+/- 100˚F) and 1tsp of sugar for 5 minutes then dump in half of the 2 1/2 cups of flour, hitting it with 1/4 cup of your best olive oil.
Once you've added the olive oil, mix until it becomes smooth and let that rest for another 5 minutes, allowing the yeast to grow some more. Grab the remaining flower and 1tsp of salt and mix it in, getting those hands dirty.
You can start to knead the dough in the bowl to form it into a workable ball. Once the edges of the bowl are clean you'll have a slightly tacky dough that you can continue to knead on a floured work surface for a few minutes. Don't over work the dough, just a few minutes to break up the gluten.
Generously pour more olive oil down the sides of a bowl, then drop your dough inside and hit it with a few more drizzles on top. Cover the bowl with cling film or a warm damp towel and let the focaccia rest for 45 minutes. The dough should double in size, if nothing happens most likely you're yeast didn't grow because the water was too warm, or too cold, or Sagittarius was not in alignment. I've killed the yeast so many times, I grown a distinct hate for those little guys.
If victorious the dough has risen and you can now pour some more olive oil to coat a baking sheet, pan or baking steel. I personally love my baking steel, evenly cooks to perfection. Spread out the dough to a 10x5 rectangle or oval shape, personally I don't really pay attention to the dimensions, however I like to keep mine about 2 inches in thickness. Once you've formed the shape, engage fingers and poke the hell out of it. Create dimples that go all the way through to the baking steel. Why? Technically, it's called docking the dough and it allows the focaccia to rise slightly, but not dramatically. All these little dimples also catch, you guessed it, another round of olive oil.
Now you can top with whatever, I used caramelized onions, tomatoes and fresh rosemary, but you could use eggs, fennel, your favorite cheese. Just remember to hit it with a few sprinkles of sea salt, before you pop it into the oven at 450˚F for 20-25 minutes or until golden brown.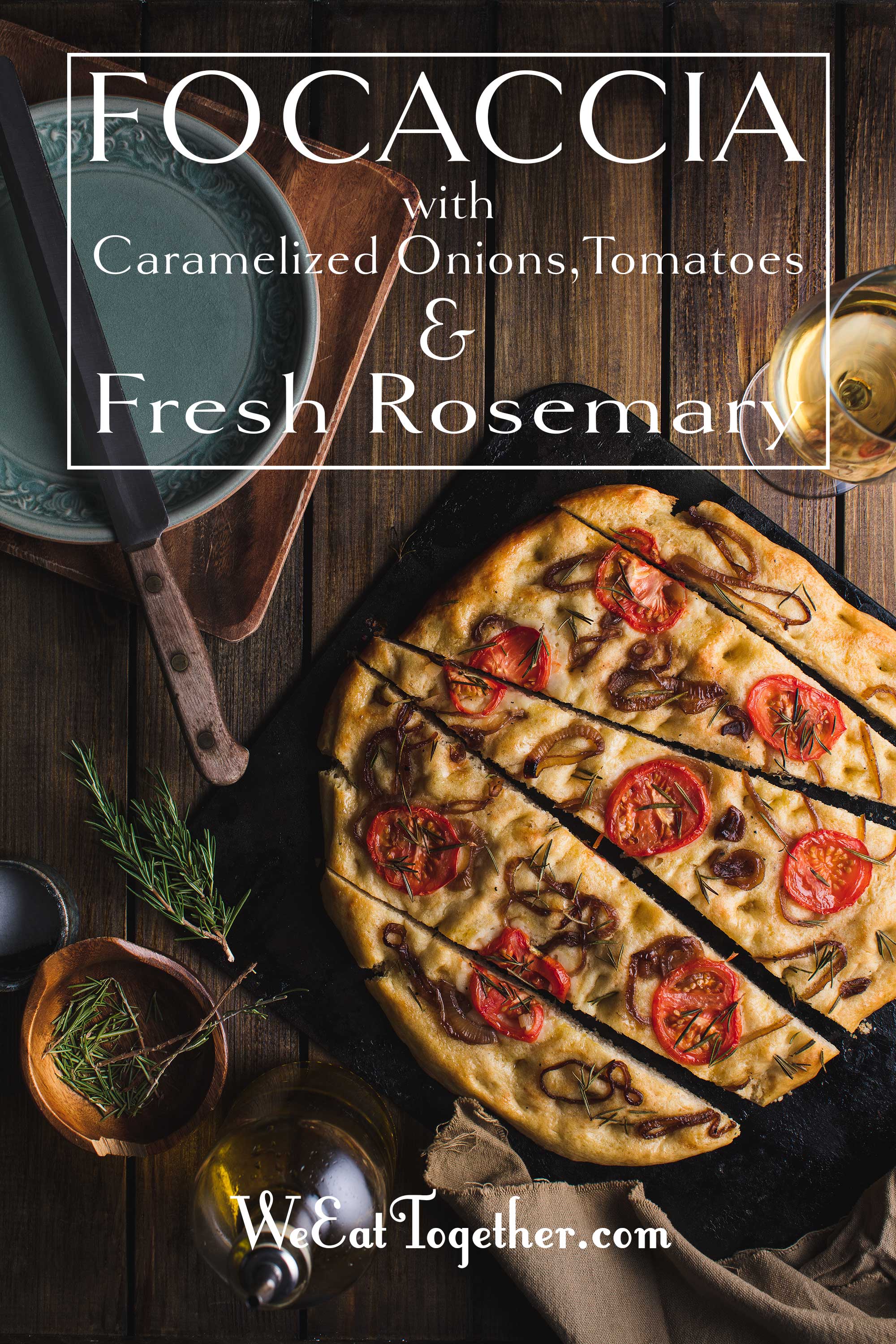 Google+ Comments