It's genuinely difficult to pinpoint what food photographers should look for in a camera. We don't fit neatly into camera manufacture's mold of what a photographer wants, but let's face it, we all have gear lust at some point. The sparkly new advertisements of the latest camera with its shiny buttons and grand specs suck us in. They promise us better photos with higher megapixels then ever before. Touch screens, wifi, autofocus, faster, better, and more…more… more!!!! We scour eBay to check the resale value of everything we own, but that new camera is still out of our price range.
Quick! Google how much a used kidney will sell for!
Drooling over every spec of the latest camera can quickly become ridiculous, especially for us food photographers. We don't need 90% of what a modern camera is capable of, to photograph our subjects. So what should we be looking for?
What Food Photographers Should NOT Look For In A Camera
I know that subtitle is kind of a loaded statement, personally I'll take any feature packed into a camera, but let me list out a few specs we shouldn't sell parts of our bodies for, just yet.
As food photographers obviously our subjects don't move (unless you're eating live octopus), they are on a table, we usually snap photos one at a time, and rarely do we shoot in low light. So for me, I personally think it would save us food photographers a lot of stress to not get caught up in the hype of fast autofocus, loads of frames per second and high ISO capabilities of the latest cameras. These are the biggest marketing points for new cameras and features that make a lot of photographers go crazy.
---
WHAT FOOD PHOTOGRAPHERS SHOULD LOOK FOR IN A CAMERA
---
First off, let me start off by pointing out that age old photographer wisdom says to spend less on the camera and more on lenses. Lenses will last much longer then that new camera body and you will want to have a few pieces of glass to choose from in your bag.
That being said, it's impossible to talk about what food photographers should look for in a camera without first ringing up the old accountant. Budget is important. You will want to have some cash left over after your camera purchase to buy some food to shoot (or eat!). Here are the 4 features I'm looking out for in a new camera.
1 - Megapixels To Price Ratio
I like to apply a megapixel to price ratio when looking for a new camera. The more megapixels, the more yummy details in my photos. However, the higher the megapixel count in a camera, the higher the price. I recommend sticking to something in the middle.
In the early 2000's, stock and publication companies would have something like an 8 megapixel minimum. If your photos were taken on a camera that was below that minimum they couldn't accept them, for printing reasons. Nowadays, even the most entry level dSLR has more than double that minimum megapixel count. What's more is now most image display is done on the web, it makes a lot of these crazy megapixel monsters even less relevant.
That being said, if you shoot for print, you're going to want a camera that packs that megapixel punch. <-- $36,000 Pre-Owned Camera!
The discussion around megapixels is huge, technical and boring! There is always a huge debate about the "right" amount of megapixels for the size of the sensor. In my opinion, this never ending rabbit hole is a distraction. I would suggest the amount of megapixels food photographers should look for in a camera is the highest amount they can afford.
Here are a few cameras that are good value for their megapixel count.
---
---
2 - Tethering abilities
The ability to tether my camera to the software on my computer is a big feature I'm looking for when shopping for a new camera. I absolutely hate feeling the excitement of opening up a new camera only to be immediately disappointed that it's not yet compatible with my software (you would think that companies would have that nailed down by now, Lightroom I'm looking at YOU)!
Whether on location or even inside my own studio, my camera is always connected to my computer. Viewing your images as you make them on a nice large computer screen has so many advantages. Unless you're in the studio by yourself, as a food photographer you're most likely working as a part of a creative team. Having those photos zip on over to a screen that everyone can see, is invaluable.
If that new camera you're considering is not supported by the software you use, you might want to reconsider either the camera or the editing software. There are updates and workarounds for most cameras, but regardless, tethering to Capture One or Lightroom is definitely something food photographers should look for in a camera.
If you're looking for a really good USB cable to tether your camera with here is the 15ft one I use from tethered tools in bright orange so you can look cool and not trip at the same time.
3 - Good Video Capabilities (not necessarily 4k)
You may not be shooting a lot of video right now, but food recipe videos are on the rise and here to stay. Having a camera with good video capabilities is definitely something food photographers should look for in a camera.
Right now all the camera manufacturers, like Nikon, Sony, Fuji and (not)Canon, are trying to grab up the 4k market share, but if having 4k in your new camera will break your budget, then I would stick with the trusty 1080p. I use 1080p for most everything still and I don't see it going away anytime soon.
Most media has or is in the middle of transitioning onto a digital platform and video is dominating. Having not only the skills to create, but the basic equipment to capture, stunning food videos will payoff big for food photographers. Especially if you already know how to light and compose great food images.
4 - Extra Goodies That Would Be Helpful
Two extra goodies food photographers should look for in a camera are articulating LCD screens and wifi.
A lot of food photographers love shooting from above the table and having both of these features are awesome when you're going for that perfect, overhead shot.
Although, being able to flip-out and rotate your LCD screen to check your composition when your camera is out of reach is super handy, my personal favorite camera feature is wifi. I have a couple of apps on my phone that allow me to control my cameras and see the results. This is not only great for viewing your composition, but you can also screenshot the images on your phone and quickly message it to your wife/husband or client for feedback while you're still in the heat of the shoot.
Sadly, only a few cameras have wifi. As mobile phones and computers are becoming more common tools in the image capturing process, I have a hard time imagining why this feature hasn't made it to every camera yet. However, it's a feature I would look out for when slapping down my money for that new camera.
If you recently purchased a new camera or already own one and you want to learn how to make the most out of it for your food photography, let me show you in one of my great food photography courses!
This is not a sponsored post, however this post does contain affiliate links to some great photography gear, products or services I currently use or have used in the past. If you plan on shopping for some new great stuff, please click through the link and I'll receive a small commission. Every purchase helps me continue on my never ending quest to provide amazing content.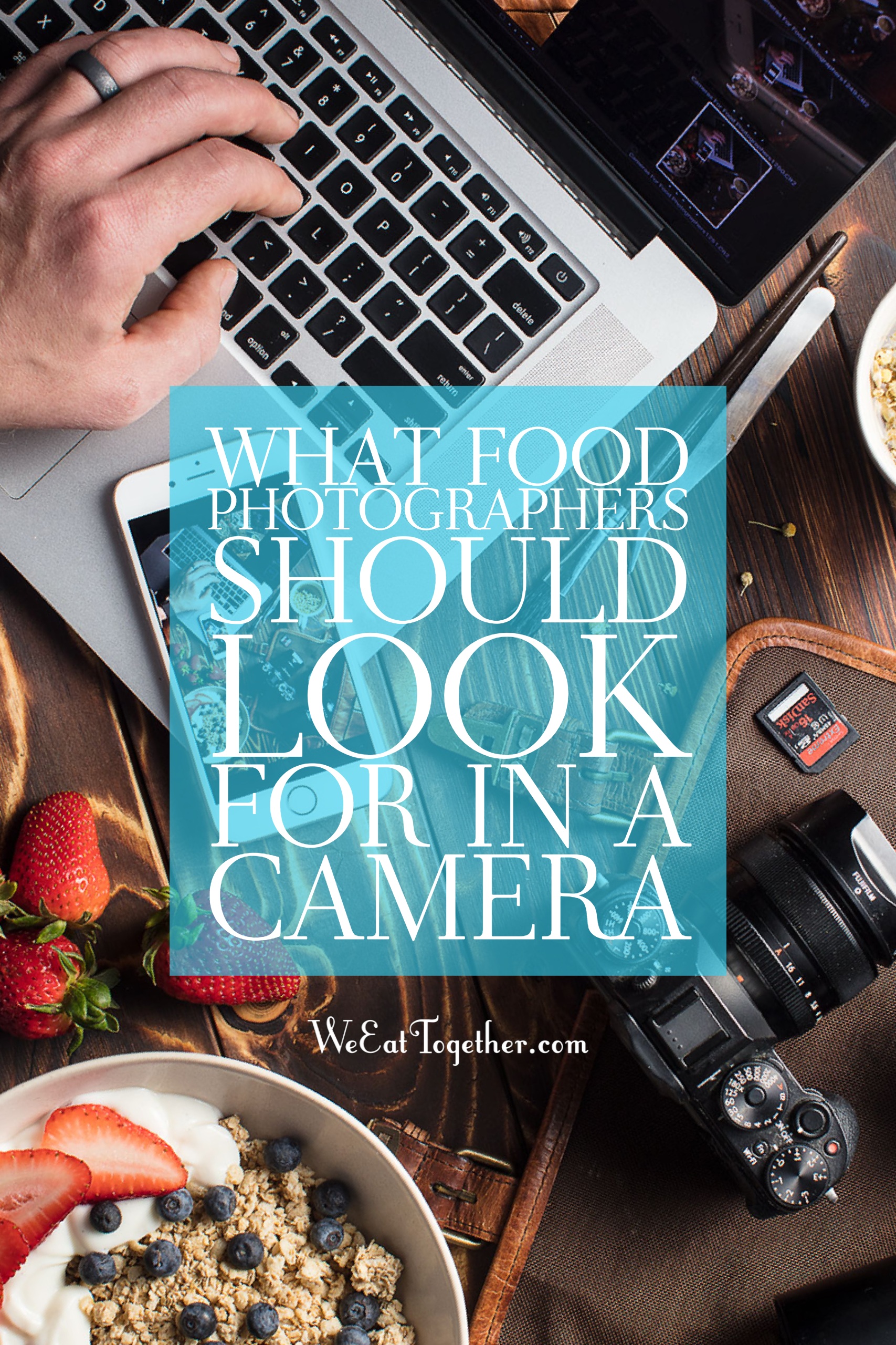 Google+ Comments