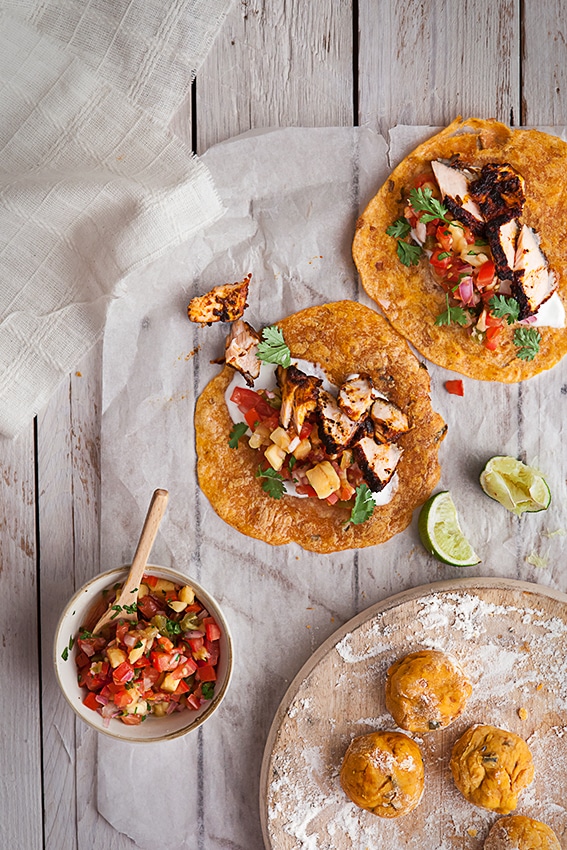 Homemade Spicy Jalapeño Tortillas Recipe
1 Large Jalapeno Pepper (whole)
1 Small Red Onion
1-teaspoon Molido Chili powder
2 cloves of garlic
75ml of vegetable oil
4 cups of whole-wheat flour
1-teaspoon baking powder
1-teaspoon salt
1-½ cups of milk
For this Spicy Jalapeño Tortillas Recipe, pour vegetable oil into medium pan. Throw in minced or puree jalapeno, red onion, garlic and a teaspoon of Molido Chili powder. Not just any chili powder will do, make sure it's from the Americas as Indian chili powders taste quite different.  Let simmer for about 5 minutes on a low heat stirring to mix all the flavors.  Pour back into measuring cup and let cool until mixture is room temperature.  The oil / solids mixture should equate to about ½ of a cup.
Place dry ingredients in a large bowl and pour in oil mixture. Use a spoon to get all the chunks of onion and jalapenos stuck to the measuring cup into the bowl.  Pour in milk while continuing to fold dough by hand until it turns into a sticky ball.  Cover with cling film and let rest for 30 or so minutes.
While dough is resting heat up tortilla press (which I prefer over a stovetop pan for consistency in size and thickness).  The press should be at maximum heat otherwise the tortillas would stick or crumble.
Dust your hands with some flour and roll up 20 or so Ping-Pong size balls, place on a damp cloth, sprinkle the tops with some water if dough starts to dry out as your cooking them.  Flatten each ball with the tortilla press for a few seconds if your press is like mine it applies pressure from back to front so rotate and flatten each side to make sure it is the same thickness all around. Press gently and evenly, if you press too hard to quickly the tortilla will break apart. Once tortilla is flat, open press and allow to cook for 15 – 20 seconds on each side or until tortilla is dry on each side, but not brown or the tortilla will be too crispy and start to crumble if you try to fold them. Stack finished tortillas aside on a baking sheet and continue until all the dough is pressed.  Wrap finished tortillas and store in the fridge or serve directly.
Subscribe to get more great RECIPES!
Google+ Comments